This add-on costs $29 and isn't part of the main Support Board purchase
Chat & Tickets for
WHMCS
Allow your customers to connect with your WHMCS staff in real-time with a professional chat and save time with a smart bot that provides automated answers to the client's questions.
---
Purchase for $29
---
WHMCS
---
---
Smart Bot
Save time and money by letting the bot do the hard work for you and answering repetitive questions automatically.
Knowledge Base Synchronization
Manually import the WHMCS Knowledge Base articles into the Support Board Articles area with one click.
Login Form
WHMCS users can log in directly from within the chat or tickets area with their WHMCS email and password.
Link to WHMCS Client
The Support Board admin area provides a link to the WHMCS admin client page for the active conversation.
Admin Chat Link
Option to display a menu item linked to the Support Board admin area in the WHMCS admin menu.
WHMCS Add-on
This chat and tickets add-on comes with a WHMCS add-on/module that allows an easy and fast installation.
---
---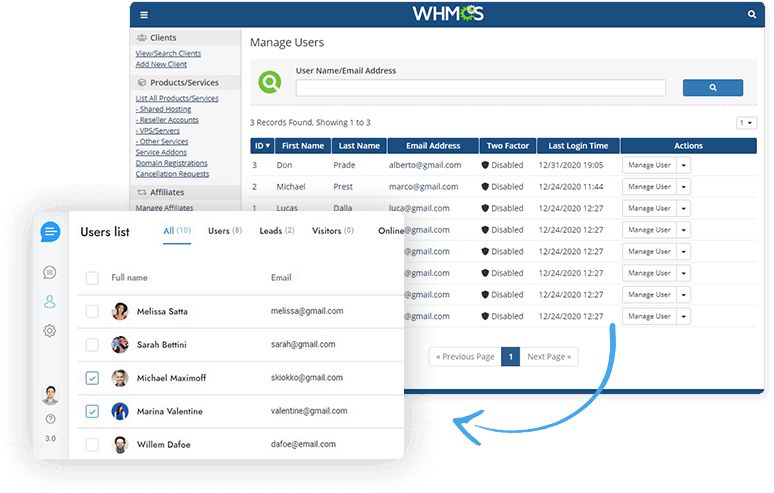 Clients real-time synchronization
Support Board will automatically display the chat in the clients' area, it will also identify the currently logged-in WHMCS user and register it in Support Board automatically. You can also manually import users.
---
WHMCS user details sync
Logged-in user detection
Login form within the chat
Manually import users
---
Professional Tickets Area
Add a tickets system powered by the Tickets App in the client's area and lets your clients contact you both via chat and tickets. The tickets area is restricted to registered users only.
---
Professional tickets area
Automatically integrated into the clients' area
Departments, chatbot, and more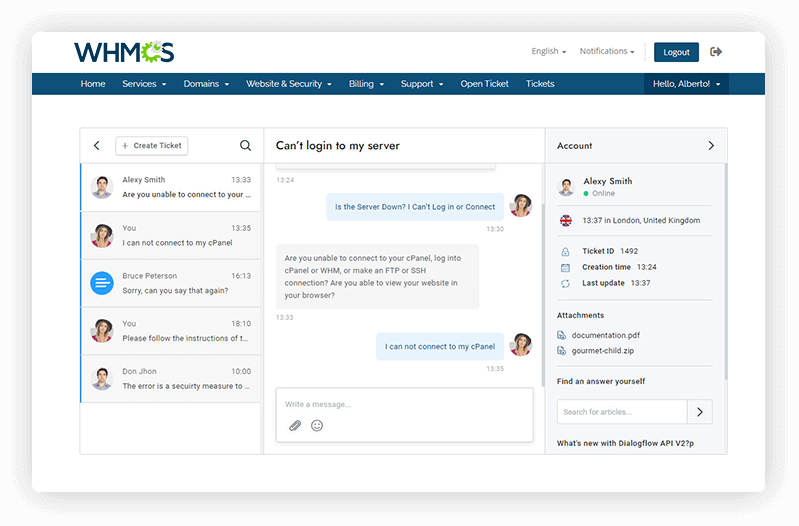 ---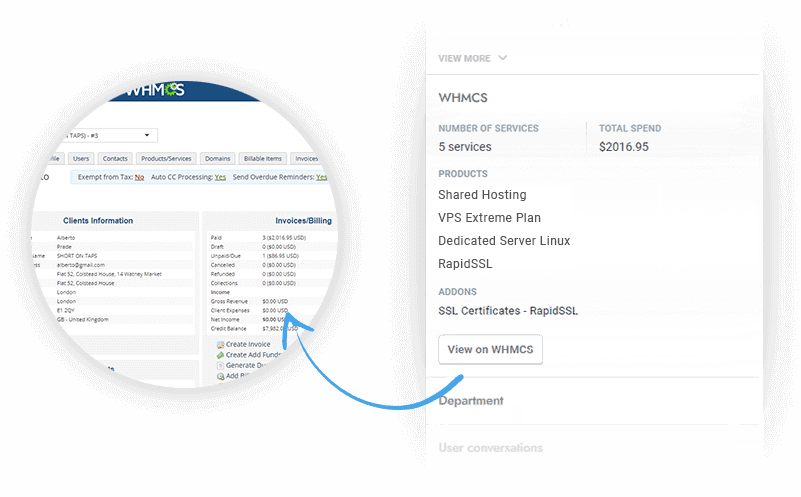 Clients Services Details
View your customer details like the active services, and lifetime value, directly in the conversations admin area in real-time. No more time wasted searching for information.
---
View customer lifetime total spend
View customer active services
---
Choose when to show it
Show the chat only to registerd and logged-in users, and hide it to visitors. Tickets area automatically restricted.
Automatic departments
Assign departments to new conversations automatically based on user type: visitor or logged-in user.
More coming soon
We update our apps and add-ons constantly with new amazing features. Stay tuned!