How To Integrate Slack With WordPress: Streamline Your Website Management
WordPress is a powerful content management platform with numerous features that allow users to efficiently supervise their website from top to bottom. You can incorporate different tools that increase productivity by exchanging and sharing capabilities to achieve a progressively organized system.
---
Purchase Slack App
---
One of the most crucial factors that affect website management systems is communication. It holds the key to establish and maintain relationships with visitors and potential customers. Integrating Slack— which is known as a collaborative tool that enables you to synchronize all responsive activities on your website, optimizes your communication process on a significant level.
---
What is Slack?
---
Slack is a business communication platform that brings remote teams in one place to set up a systemized client/project management system. Working with Slack allows you to manage multiple projects in individual channels to organize team conversations.
The tool is suitable for small and large teams. Slack has various features that let you follow, arrange, and prioritize conversations. The central workspace makes it possible for users to manage customer engagements fast and easy.
Why Use Slack In WordPress Management?
---
1) Slack enhances WordPress customer management productivity.
Customer inquiries established from your website can also be managed in Slack, and you can type and send out responses in real-time. There's a two-way synchronization that updates and stores full conversations with clients.
You can assign unlimited Slack members who can handle unlimited chat sessions to sustain customer support. Slack has proactive chat triggers that automatically open each chatbox. The tool also supports multiple languages with an auto-translation feature. The users can assign their online or offline schedule if you want to make sure that you have people always available to answer queries, 24/7.
---
3) Slack enhances WordPress content management productivity.
Slack integration has a notification system for content reviews, revisions, completions, and publications. You can track your team's progress as if you were working on your WordPress the whole time. What makes it advantageous is that you can handle other business matters while keeping your website running in the background.
2) Slack can serve as an activity tracker for WordPress.
Enabling mobile and desktop notifications lets you track user activity between Slack and WordPress anytime and anywhere. Aside from monitoring customer responses, you will also remain updated with email submissions, published/deleted posts, comments, and other events on your pages.
---
4) Slack can streamline WordPress management.
All in all, Slack keeps your WordPress management in order. You can stay top-of-mind on all project tasks with proper distribution and accomplishment. The process is a whole lot less complicated, maintaining efficient work output from the team while delivering 100% customer satisfaction.
How To Embed Slack Into WordPress
Open a Free Slack Account
For those who don't have a Slack account opened yet, you'll need to register one for your WordPress integration.
---
Step 1: First, you need to access Slack through their website. Simply go to slack.com, and you will see the access button on the homepage, which says "Try Slack For Free", and then click.
Step 2: You will be redirected to a new window, where you will be instructed to create a new Slack workspace. Enter your business email address, then click "Next".
Step 3: The next step will require you to provide a name for your Slack team. Preferably, you can name your Slack team with your official business name. Type in your Slack team name, then click "Next".
Step 4: After choosing a Slack team name, you will be asked to provide a Slack web address for your business account. This web address will be exclusively accessible for you and your Slack team. Make sure that your Slack web address is unique. Finally, you can enter your chosen web address, then click "Next".
Step 5: Confirm your Slack details, including your Slack team name, Web address, Name, Username, and business email address. Check all the items, then click "Create my new Slack team". You're almost there! But, not quite yet.
Step 6: You need to invite your team into your Slack account. You will be redirected to the next window to encode the email addresses of all your team members to send out the invites.
Once your team is complete, you can continue organizing your Slack account by setting up channels— these are group feeds where all concerned teammates can communicate. Take note that you can have private and public channels.
Don't worry because Slack is free for everyone, and it only takes a few minutes to set up an account. The free plan is extremely useful that it would seem like you won't be needing anything else aside from what's already included in the platform. However, there are a few features like enabling two-factor authentication and searchable archives that are only covered in paid plans. If you prefer, you can open a subscription account for $6.67 per month.
We mentioned that you could receive Slack notifications via mobile. That is because Slack is available on Mac & Windows desktop and iOS and Android devices. Exchanging client messaging has never been this convenient, although establishing one-on-one client calls is still under development.
Install The "Incoming Webhooks" App in Slack
Incoming Webhooks is an app that can pull custom information from WordPress to Slack.
---
Step 1: On your Slack dashboard, click the dropdown arrow beside the company name, look for "Administration", then click "Manage Apps".
Step 2: Search for "Incoming Webhooks", then click "Add" or "Install".
Step 3: Choose the channel where you want to post external sources or messages.
Step 4: Generate the Webhook URL, which you will use later for integrating Slack to WordPress.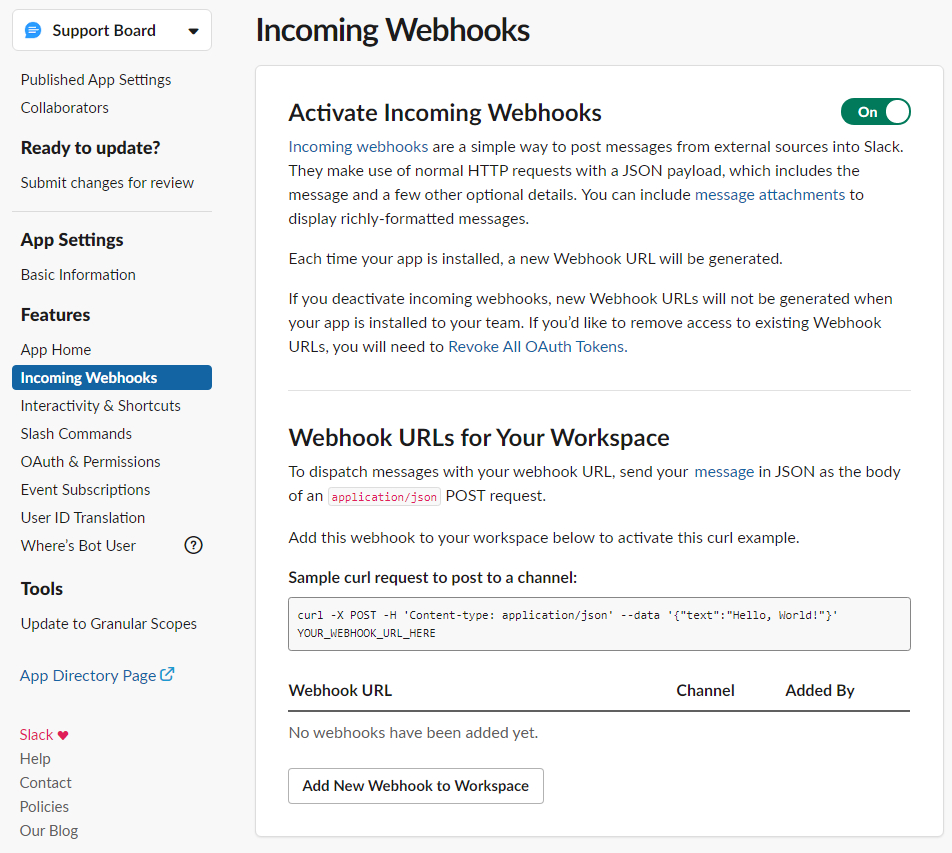 Install The "Rock The Slackbot" Plugin in WordPress
Rock The Slackbot is a plugin that can monitor messaging and other types of events happening in your WordPress site, and sync it with Slack.
---
Step 1: On your WordPress dashboard, go to the left sidebar, click "Plugins".
Step 2: Search for "Rock the Slackbot", then click "Add".
Step 3: Go back to the left sidebar, click "Tools", then choose "Rock the Slackbot".
Step 4: Click "Let's get this party started". Fill out all the appropriate items. Look for Webhook URL, then paste the URL generated from the "Incoming Webhooks" app.
Step 5: Select all event boxes you want to apply to your notification settings. Click "Save Webhook" to save.
Wrapping Up The WordPress Slack Integration
By now, you're ready to start exploring the features of integrating Slack to your WordPress site, and vice versa.
With a fully-coordinated team, running a business website doesn't sound so challenging after all. The WordPress-Slack integration is definitely an ideal setup to directly push notifications that will allow you to streamline management systems on a multi-author website.
Do you have questions on how to integrate Slack with WordPress properly? Ask away on the comment section below!
You can also visit Support Board and find out an easier option to integrate Slack to your website.